La diagnosi differenziale è un procedimento diagnostico che opera confrontando i sintomi, riscontrati durante la fase di anamnesi e valutazione, con il fine di effettuare un corretto inquadramento del disturbo e fronteggiare al meglio la patologia.
Nel processo neuroriabilitativo è determinante effettuare una corretta differenziazione della diagnosi anche
quando il quadro risulta più complesso, come nel caso dell'emianopsia e della negligenza spaziale unilaterale o neglect. Il neglect e l'emianopsia sono disturbi molto frequenti dopo un danno cerebrale e spesso vengono confusi perché non sempre è possibile disambiguare la sintomatologia con facilità. La diagnosi differenziale può risultare difficoltosa in quanto entrambe le condizioni si presentano come un fallimento, nei test e nella vita quotidiana, nel percepire o reagire a stimoli nella metà dello spazio contro lesionale. In aggiunta, non è insolito riscontrare una compresenza dei disturbi che rende ancor più complessa la gestione della sintomatologia
Fundamental to the diagnosis
Per definizione, l'emianopsia dipende da un danno alla via visiva primaria e si manifesta con un deficit in una porzione del campo visivo controlaterale alla lesione, contraddistinto da una perdita di visione in una porzione specifica dello spazio.
Quindi, dopo un danno cerebraledestro, l'emianopsia interesserà l'emicampo visivo sinistro e viceversa. Anche nel neglect il deficit è controlaterale alla lesione cerebrale, ma di natura differente. La causa principale della patologia è una lesione associata, in genere, all'emisfero destro. Il deficit è definito dalla perdita di consapevolezza dello spazio controlaterale alla lesione, per cui, non si avrà più consapevolezza degli stimoli provenienti da sinistra. In particolare, il neglect è una ridottatendenza a prestare attenzione, percepire e interagire con stimoli (visivi, acustici, tattili) provenienti dall'emispazio controlaterale alla lesione.
Questa complessa condizione clinica, a seconda dell'area cerebrale colpita, può presentarsi in più modalità: visivo, uditivo, motorio, solo per le parole, percettivo o percettivo ma non esplorativo. In quest'ultimo, in particolare, la malattia è caratterizzata da cecità con percezione incosciente, ossia il meccanismo cerebrale
inconscio continua a registrare e analizzare oggetti nello spazio negletto anche se non riescono
a essere portati alla coscienza.
A complex clinical condition
By definition, hemianopsia depends on the damage to the primary visual pathway and is manifested by a deficit in a portion of the visual field opposite the lesion, distinguished by a loss of vision in a specific portion of space. Thus, after right brain damage, hemianopsia will affect the left visual hemicampus and viceversa.
In neglect, the deficit is also contralateral to the brain injury, but different. The main cause of the pathology is a lesion usually associated with the right hemisphere. The deficit is defined by the loss of awareness of the space opposite the lesion, whereby, one will no longer have awareness of stimuli coming from the left, a true loss of half of the visual field.
Specifically, neglect is a reduced tendency to pay attention to, perceive, and interact with stimuli (visual, auditory, and tactile) from the hemispace contralateral to the lesion.
This complex clinical condition, depending on the brain area affected, can present in multiple modalities: visual, auditory, motor, word-only, perceptual, or perceptual but not exploratory. In the latter, in particular, the disease is characterized by blindness with unconscious perception, that is, the unconscious brain mechanism continues to record and analyze objects in neglected space even though they fail to be brought to consciousness
Among its various forms, visual neglect is commonly placed in differential diagnosis with hemianopsia visual field disorder, to compare the aspects that most unite the two clinical conditions.
Differences in neuropsychological assessment
During the neuropsychological assessment, cognitive domains such as attention and visuospatial exploration, body space exploration, or reading are investigated. In addition, people undergo examinations such as Computerized Visual Range or campimetry to assess the extent of visual impairment. Generally, to measure awareness of the disorder and the severity of the disability in daily life, questionnaires and scales assessing the impact and perception of the deficit in individuals are also submitted during an eye examination.
The performances of the two clinical populations denote two symptomatologies that differ on several points. The first basic difference is the extent of the visual deficit, which in hemianopsia, but not in neglect, directly affects the primary visual pathway.
Campimetries show a constant difficulty in patients with hemianopsia, regardless of the stimulus presented and evident in a defined right or left space. Whereas, in neglect, cabinetries detect an inconstant, non-spatially defined deficit in which stimuli of different natures can induce variable performance.
One difference between hemianopsia patients and those with neglect is that the former exhibit disorganized visual exploration and tend to scan both the intact and impaired visual field, whereas subjects with neglect explore the healthy visual field more intensively and the neglected field little or not at all. This happens because hemianopsia is aware of their difficulties, unlike subjects with neglect who are anosognosic and therefore have no awareness of their deficit.
In neglect, one of the main problems is that the disability perceived by the subject is different from that observed by family members.
Another example of tests most commonly used in neuropsychological evaluations of these symptoms is the Deletion Test in which people are asked to cross out all stimuli randomly distributed on a sheet.
Differences in performance and tests used
Tests can be presented in various ways (lines, letters, stars) and differ in type, density, and presence of distractors. During erasure tests, few omissions are generally observed in hemianopsia compared with subjects with visual neglect, where omissions in the affected space are numerous and often associated with perseverations (fig.1).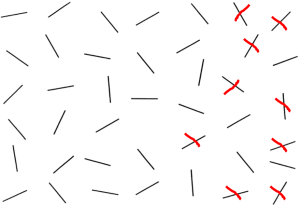 The bisection is correct in hemianopsia with a possible deviation toward the blind field; whereas, in neglect, the bisection deviates toward the healthy field because patients tend to move the midpoint to the right (fig.2).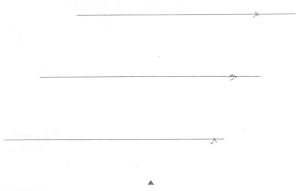 Another widely used task is the copying of simple figures, in which, patients with neglect, compared to hemianopsia, are more impaired and omit the left parts with an obvious imbalance.
Spontaneous Drawing Tests are useful in determining whether there are signs of representational neglect. This can be detected through omissions, distortions, or spatial transpositions from the left side. Reading tests also reveal different problems, such as errors by hemianopia and slow reading by individuals with neglect, which include errors in reading single words and omissions of the left column.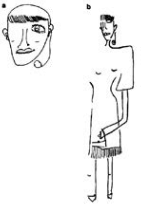 Reading tests also reveal different problems, such as errors by hemianopia and slow reading by individuals with neglect, which include errors in reading single words and omissions of the left column.
In addition, studies have shown that the use of ecological testing is an excellent way to identify neglect.
The Behavioral Inattention Test (BIT, Fig. 5) is a complex battery of tests that can identify neglect conditions and differentiate them from others. This type of test can also help build a behavioral profile of the patient, allowing a better understanding of his or her situation.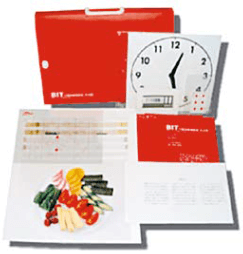 In conclusion
To ensure sufficient stability and to ensure that performance is correctly interpreted, assessment must make use of consistent testing and evidence that assesses the different levels at which impairments may emerge. In both clinical conditions, disability reflects obvious difficulties in daily life; therefore, it is important to clarify the diagnoses and intervene appropriately.
It is important to recognize that some standard tests may not be able to accurately identify neglect. Therefore, more complex and realistic tests have been developed that can help identify neglect with standard and ecological tests.
For example, the Behavioral Inattention Test provides a useful behavioral profile of the patient to differentiate his or her condition from others. In addition, to ensure proper interpretation of results, it is important to use tests that assess the different levels at which disorders may emerge
Bibliography
B. L. Zuber, J. L. Semmlow, and L. Stark, "Frequency Characteristics of the Saccadic Eye Movement," Biophys. J., vol. 8, no. 11, pp. 1288–1298, 1968.
Bowers, Alex R., Egor Ananyev, Aaron J. Mandel, Robert B. Goldstein, and Eli Peli. 2014. "Driving with Hemianopia: IV. Head Scanning and Detection at Intersections in a Simulator." Investigative Ophthalmology & Visual Science 55 (3): 1540–48. https://doi.org/10.1167/iovs.13-12748.
C. Perez and S. Chokron, "Rehabilitation of homonymous hemianopia: insight into blindsight," Front. Integr. Neurosci., vol. 8, no. October, pp. 1–12, 2014.
Chedru, F., M. Leblanc, and F. Lhermitte. 1973. "Visual Searching in Normal and Brain-Damaged Subjects (Contribution to the Study of Unilateral Inattention)." Cortex 9 (1): 94–111.
Elgin, Jennifer, Gerald McGwin, Joanne M. Wood, Michael S. Vaphiades, Ronald A. Braswell, Dawn K. DeCarlo, Lanning B. Kline, and Cynthia Owsley. 2010. "Evaluation of On-Road Driving in People with Hemianopia and Quadrantanopia." The American Journal of Occupational Therapy: Official Publication of the American Occupational Therapy Association 64 (2): 268–78. https://doi.org/10.5014/ajot.64.2.268.
Facchin, A., & Daini, R. O. B. E. R. T. A. (2015). Deficit centrali di campo visivo. Platform Optic, ottobre.
Felten, D. L., & Maida, M. S. (2017, March). Atlante di neuroscienze di Netter. Edra.
G. Kerkhoff, "Restorative and compensatory therapy approaches in cerebral blindness – a review," Restor Neurol Neurosci, vol. 15, no. 2–3, pp. 255–271, 1999.
G. Vallar and C. Papagno, Manuale di neuropsicologia, Terza ed. Bologna: il Mulino, 2018.
Goodwin, D. (2014). Homonymous hemianopia: challenges and solutions. Clinical Ophthalmology (Auckland, NZ), 8, 1919.
Goodwin, D. (2014). Homonymous hemianopia: challenges and solutions. Clinical Ophthalmology (Auckland, NZ), 8, 1919.
Grunda, T., Marsalek, P., & Sykorova, P. (2013). Homonymous hemianopia and related visual defects: Restoration of vision after a stroke. Acta neurobiologiae experimentalis, 73(2), 237-249.
Ishiai, Sumio, Tetsuo Furukawa, and Hiroshi Tsukagoshi. 1987. "Eye-Fixation Patterns in Homonymous Hemianopia and Unilateral Spatial Neglect." Neuropsychologia 25 (4): 675–679.
J. N. Carroll and C. A. Johnson, "Visual Field Testing," 2013. [Online]. Available: http://eyerounds.org/tutorials/VF-testing/.
J. Otero-Millan, X. G. Troncoso, S. L. Macknik, S. MartinezConde, and I. Serrano-Pedraza, "Saccades and microsaccades during visual fixation, exploration, and search: Foundations for a common saccadic generator," J. Vis., vol. 8, no. 21, pp. 1–18, 2008.
Kandel, E., Schwartz, J., Steven, T. M., Siegelbaum, A., & Hudspeth, A. J. (2014). Principi di neuroscienze (IV). Milano: Casa Editrice Ambrosiana.
Làdavas, E. (2012). La riabilitazione neuropsicologica. Bologna: Il Mulino.
Làdavas, E., & Berti, A. (2014). Neuropsicologia. Bologna: Il mulino.
M. Rolfs, "Microsaccades: Small steps on a long way," Vision Res., vol. 49, no. 20, pp. 2415–2441, 2009.
N. M. Dundon, C. Bertini, E. Làdavas, B. A. Sabel, and C. Gall, "Visual rehabilitation : visual scanning , multisensory stimulation and vision restoration trainings," vol. 9, no. July, pp. 1–14, 2015.
Passamonti, C., Bertini, C., & Làdavas, E. (2009). Audio-visual stimulation improves oculomotor patterns in patients with hemianopia. Neuropsychologia, 47(2), 546-555. Zhang et al. 2006
PRISMA – Bollettino Di Aggiornamento Dell'associazione Italiana Ortottisti Assistenti In Oftalmologia. Spedisce: Centro Organizzazione e Congressi, via Miss Mabel Hill 9, 98039, Taormina, Anno 2013, Numero 2
S. Pannasch, M. Joos, and B. M. Velichkovsky, "Time course of information processing during scene perception: The ii relationship between saccade amplitude and fixation duration," Vis. cogn., vol. 12, no. 3, pp. 473–494, Apr. 2005.
S. Schuett, "The rehabilitation of hemianopic dyslexia," Nat. Rev. Neurol., vol. 5, no. 8, pp. 427–437, 2009. [16] T. M. Schofield and A. P. Leff, "Rehabilitation of hemianopia," Curr. Opin. Neurol., vol. 22, no. 1, pp. 36–40, 2009.
Zhang, X., Kedar, S., Lynn, M. J., Newman, N. J., & Biousse, V. (2006). Homonymous hemianopia in stroke. Journal of Neuro-ophthalmology, 26(3), 180-183.
Zihl, J. (1995a). Visual scanning behavior in patients with homonymous hemianopia. Neuropsychologia, 33(3), 287-303.
Zihl, J. (1995b). Eye movement patterns in hemianopic dyslexia. Brain, 118(4), 891-912.
Toraldo A, Romaniello C, Sommaruga P (2017). Measuring and diagnosing neglect: a standardized statistical procedure. The Clinical Neuropsychologist. DOI: 10.1080/13854046.2017.1349181.
Hemispatial neglect: clinical features, assessment and treatment – Scientific Figure on ResearchGate.
Hemispatial neglect: clinical features, assessment and treatment – Scientific Figure on ResearchGate.
Silvi Cadri
Ph.D. in Neuroscience and Neuropsychological Rehabilitation.
Profilo Linkedin